Fall Migration is Always Full of Surprises!
The nights are getting longer and there is a crisp feel to the air. We notice all these changes and the birds do too. The fall migration is underway and different species are working their way south day by day. Birders never no what wonderful species may end up in their yard or area hot spot. That is what makes fall birding so exciting. The Canada Warbler pictured above and discovered in Sunnyvale in early September stayed just over 24 hours before continuing its migration south to spend its winter in the tropics. It was a life bird for many California Bay Area birders. Trips, workshops, classes and weekend adventures are planned through the end of the year. I hope you can make time to come out and enjoy this 2013 fall migration. Check out the schedule and send me an email. Beginners are most welcome. Check out the upcoming trips! Canada Warbler, Sunnyvale, CA. - Brooke Miller
Now Is The Time For Nature!
| | |
| --- | --- |
| Sat. Nov. 16, 2013 | Lodi to see Sandhill Cranes - Final Trip Report |
| Dec. 7 & 8 weekend | Weekend birding the Central Valley - Wait List |
| Sat. Jan. 11, 2014 | In Search of Mountain Plover - Tell Me More |
| Sat. Feb. 15, 2014 | Stinson Beach & Bolinas Lagoon - Tell Me More |
So what is birding?
A hobby, a sport, a challenge, a good time
Non-birders often ask,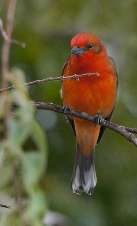 What is birdwatching?
Well, birding gets folks outside to enjoy everything found in nature. Its like going on a treasure hunt. Everywhere you look may find new creatures, plants & birds. As you get into the sport you end up with great toys from high powered optics, to fancy tripods and ipods, plus the latest outdoor gear that keeps you warm, cool or dry depending on your destination. Birding motivates one to explore the open spaces that people have worked so hard to preserve while also appreciating the birds in your own yard. Some get into the science of birds, while others delight in the pure joy of observation. Eventually birders travel the world, climb mountains, visit glaciers, cross deserts & go out into the oceans to find new species. You can meet great people & often end up doing service for organizations that can use some help. All are welcome regardless of age, sex, beliefs or income. Flame Colored Tanager, Panama - Patty McGann

Quotes for the Birds
"God gives every bird his worm, but he does not throw it into the nest."
P.D. James