Winter is a fantastic time to be a California Birder.
Winter is a spectacular time of year to be a California birder as California's diverse habitats provide the perfect environments for many wonderful species. Trips are planned to take advantage of the many species we only find during this time of year. As the birds escape the ice and snow many come to California to feast away the season before returning to their breeding locations next spring. There are also several classes and workshops scheduled on subjects ranging from ducks to hummingbirds and even the Icterids (blackbirds). As always, Let's Go Birding invites the beginning birder to join in on the fun along with all who are eager to get outside, learn something new and see some great birds. This winter Let's Go Birding will also be down in Costa Rica enjoying all that Central America has to offer the international birder. Check out the upcoming trips! Cackling Geese, a species success story wintering in California's Central Valley (Colusa) - Brooke Miller
Now Is The Time For Nature!
So what is birding?
A hobby, a sport, a challenge, a good time
Non-birders often ask,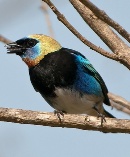 What is birdwatching? Well, its folks getting outside to enjoy everything found in nature. Its like going on a treasure hunt. Everywhere you look you find new creatures, plants & birds.
As you get into the sport you end up with great toys from high powered optics, to fancy tripods and ipods, plus the latest outdoor gear that keeps you warm, cool or dry depending on your destination. Birding motivates one to explore the open spaces that people have worked so hard to preserve while also appreciating the birds in your own yard. Some get into the science of birds, while others delight in the pure joy of observation. Eventually birders travel the world, climb mountains, visit glaciers, cross deserts & go out into the oceans to find new species. You can meet great people & often end up doing service for organizations that can use some help. All are welcome regardless of age, sex, beliefs or income. I invite you to try it! Golden Hooded Tanager - A Central American beauty - Patty McGann
Quotes for the Birds
"Everyone who enjoys birds & birding must always respect wildlife, its environment, and the rights of others. In any conflict of interest between birds & birders, the welfare of the birds and the environment comes first." ABA - Principles of Birding Ethics