Summer brings a new season of birding!
California birding in the Summer can slow a bit as temperatures rise and the frenzy of the breeding season mellows. We have to be on our toes as many juvenile birds can fool us because they look nothing like their parents. Let's Go Birding summer trips include an extended weekend to Mono Lake and several trips to the Pacific Coast as we enjoy the many species that live near the ocean or prefer the cooler coastal habitats. There are also two opportunities for you in August to come look for the California Condors of Big Sur. Let's Go Birding welcomes all different birding levels and beginners are most welcome & a special invitation goes out to those that are curious about birding. I'll even let you borrow a pair of binoculars. Check out the upcoming trips! Male Black Headed Grosbeak photographed by Douglas Joo
I welcome you to look up!
So what is birding?
A hobby, a sport, a challenge, a good time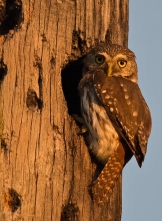 Non-birders often ask,
What is birdwatching? Well, its folks getting outside to enjoy everything found in nature. Its like going
on a treasure hunt. Everywhere you look you find new things, creatures, plants, birds & wildlife. As you get into the sport you end up with great toys from high powered optics, to fancy tripods and ipods, plus the latest outdoor gear that keeps you warm, cool or dry depending on your destination. Birding motivates one to explore the open spaces that people have worked so hard to preserve while also appreciating the birds in your own yard. Some get into the science of birds, while others delight in the pure joy of observation. Eventually birders travel the world, climb mountains, visit glaciers, cross deserts & go out into the oceans to find new species. You can meet great people & often end up doing service for organizations that can use some help. All are welcome regardless of age, sex, beliefs or income. I invite you to try it! Ferruginous Pygmy Owl at sunset at nest cavity in Belize - Pati Rouzer
Quotes for the Birds
"The Most important thing you need to know is that birdwatchers are crazy".
Sharon "Birdchick" Stiteler