Let's Go Birding celebrates 10 years with some news!
Established in 2004 Let's Go Birding is celebrating 10 years! I thank everyone who have been part of this adventure and I want you to know a new adventure is just beginnng! I introduced myself to Freddy Howell 20 years ago when she and husband John opened their Los Gatos franchise store dedicated to the backyard bird feeder. We shared a common goal; we wanted to get people involved in nature. Since then we've partnered together on projects and I lead the birding tours for the store as we travel throughout the greater Bay Area. Years ago the Howell's left the franchise and their store became the "Los Gatos Birdwatcher". I helped throughout that transition as logos, products and the marketing plan also transitioned. Well, Freddy & John just announced their retirement set for December 2015, but, instead of just closing the doors they asked if I would be willing to take it over? This way they could retire knowing their customers would continue to have a resource for high quality bird seed, products and support while I got to make my longstanding dream come true to own my own nature store. So for the next year I'll work closely with Freddy to learn the behind the scene aspects of running the "Los Gatos Birdwatcher" and "Let's Go Birding" will continue as the birding tour division. Stay tuned, updates to come.
Check out where we are going
So what is birding?
A hobby, a sport, a challenge, a good time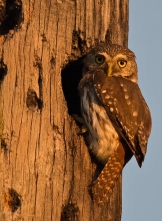 Non-birders often ask,
What is birdwatching? Well, its folks getting outside to enjoy everything found in nature. Its like going
on a treasure hunt. Everywhere you look you find new things, creatures, plants, birds & wildlife. As you get into the sport you end up with great toys from high powered optics, to fancy tripods and ipods, plus the latest outdoor gear that keeps you warm, cool or dry depending on your destination. Birding motivates one to explore the open spaces that people have worked so hard to preserve while also appreciating the birds in your own yard. Some get into the science of birds, while others delight in the pure joy of observation. Eventually birders travel the world, climb mountains, visit glaciers, cross deserts & go out into the oceans to find new species. You can meet great people & often end up doing service for organizations that can use some help. All are welcome regardless of age, sex, beliefs or income. I invite you to try it! Ferruginous Pygmy Owl at sunset at nest cavity in Belize - Pati Rouzer
March 21 - 31, 2015 - Birding Costa Rica
Let's Go Birding is going back to Costa Rica
Limited to 12 people with 2 leaders.
Tell me more!