Spring is finally here & we've waited all winter for this!
The days are getting longer, the birds are singing again, migration is underway. A day of spring birding includes song, breeding plumage, territorial displays and courtship! Let's Go Birding has several trips planned throughout the season so we can witness these avian activities. Classes, workshops, fundraisers and field trips are planned in partnership with area organizations that also share a passion for nature. As always, Let's Go Birding invites the beginning birder to join in on the fun along with all who are eager to get outside, learn something new and see some great birds. Check out the upcoming trips! Common Yellowthroat male, found in wet, marshy habitats - this great shot was taken by San Francisco Bay Area photographer Beth Hamel
Now Is The Time For Nature!
Sun. April 6, 2014
"Persistent Picidaes" bird for SCVAS -

Final Report !

Sat. April 19, 2014
San Juan Bautista's Fremont Peak -

Tell me more!

Tues. April 22, 2014
Earth Day AM walk at Picchetti Winery -

Tell me more!

Sun. April 27, 2014
Lone Tree Road - country birding! -

Tell me more!
So what is birding?
A hobby, a sport, a challenge, a good time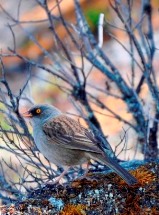 Non-birders often ask,
What is birdwatching? Well, its folks getting outside to enjoy everything found in nature. Its like going
on a treasure hunt. Everywhere you look you find new things, creatures, plants, birds & wildlife. As you get into the sport you end up with great toys from high powered optics, to fancy tripods and ipods, plus the latest outdoor gear that keeps you warm, cool or dry depending on your destination. Birding motivates one to explore the open spaces that people have worked so hard to preserve while also appreciating the birds in your own yard. Some get into the science of birds, while others delight in the pure joy of observation. Eventually birders travel the world, climb mountains, visit glaciers, cross deserts & go out into the oceans to find new species. You can meet great people & often end up doing service for organizations that can use some help. All are welcome regardless of age, sex, beliefs or income. I invite you to try it! Volcano Junco photographed at 11,000 feet in Costa Rica - Lisa Myers
Quotes for the Birds
"For most birders, the coming of the warblers is like catnip on a cat." Arline Thomas